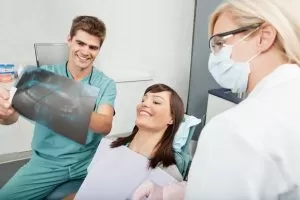 The benefits of scheduling a regular dental exam extend far beyond oral health. For over a decade, research has shown a link between oral and overall health. In addition to detecting potential problems, regular dentist visits allow you to get up to date on X-rays, receive a full teeth cleaning and polish, as well as discuss your dental concerns with your dentist.
Professional Cleanings
Regular dental exams are like a refreshing deep clean for your mouth. A hygienist will brush, floss, and polish your teeth. Next, they will use a tool called a scaler to remove tartar and plaque around the gum line that your daily dental routine cannot reach. Whenever you eat, the sugars in your food react with the plaque creating an acid that eats away at your teeth. If not removed with regular dental exams, the bacteria in plaque will cause gum disease and tooth decay. These exams also help fend off persistent bad breath.
Detecting Problems
The inflammation created by periodontal disease can increase your risk of cardiovascular disease. Scientists continue to study the link between periodontal disease and heart disease emphasizing the interconnectedness of oral and holistic health. Regular dental exams will allow your dentist to catch periodontal disease in its earliest stages and create an effective treatment plan. Nearly 50% of Americans have mild to moderate periodontal disease. This is unsurprising seeing that only two-thirds of Americans visit their dentist annually for an exam and cleaning.
During your visit, your dentist will also check for loose teeth, cavities, recession, and if you need new or more fillings. All of these issues, if left unchecked, can develop into more costly and painful dental problems.
Establishing a Relationship with Your Dental Provider
A regular dental exam will allow you to become familiar and comfortable with the staff and dentists at Millennium Family Dentistry. In the case of a dental emergency or unforeseen problem, your dentist will have a full understanding and familiarity with your dental concerns, financial situation, and oral history. This information will help them proceed quickly and effectively with the best treatment for your issue.
At Millennium Family Dentistry, our mission is to help you achieve and maintain your best and brightest smile. By scheduling a biannual dental exam, you can stay on track toward that goal. Call our dentist office in Meridian, Idaho at (208) 881-9519 to schedule your next dental exam.