Why is it that some of our favorite foods stain our teeth? Things like soda, coffee, black tea, wine, and even blueberry pie are delicious but can be harmful if consumed too much. We're excited to tell you that there is balance in mother nature! There are natural ways to counter-staining foods, which are quite delicious! As a family dentist in Meridian, we know it's important to find fun and simple ways to help your teeth and we want to give you some tips that will help you maintain the ideal tooth color this year.
Nature's Natural Whiteners
Many of our patients come to us looking for the best cosmetic dentist in the Boise area for teeth whitening. While we are proud to be able to offer excellent cosmetic dentistry services, we also want you to be able to maintain your smile at home! Some raw vegetables and fresh fruits contain key ingredients that can naturally whiten your teeth. Don't believe us? Try them for yourself. Here are 5 healthy foods we could all use a little more of in our diet that also act as a natural tooth whiteners.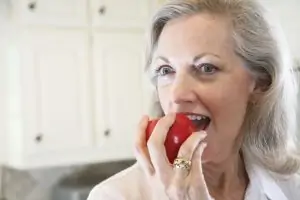 Broccoli

One of our favorite ways to eat crunchy broccoli florets is to snack on them raw, with hummus or light dressing on the side. This veggie acts as a natural toothbrush that can clean plaque from hard-to-reach places. The high levels of iron found within also shields enamel from stains!

Oranges

Orange peels have so many great uses! Unlike most other citrus fruits, orange peels are not acidic. Rubbing the inside of the peel on your teeth can help brighten your smile! Using it is quite simple. Wash off the orange peel thoroughly in clean water, then gently rub it along the surface of your teeth.

Strawberries

Combine strawberry paste with baking soda allows the acid to whiten your teeth. Don't forget to brush afterward though, there's lots of sugar in those tasty berries!

Carrots

The abrasive fibers in this crunchy snack provide a cleaning process that tough-to-remove plaque doesn't stand a chance against! After snacking on a few raw carrots, truly take the inside of this orange-colored root and give your teeth a quick polish!

Cheese

Lactic acids in cheeses will help guard teeth against future decay. Chose cheese that's hard to slice, like aged gouda. The hardened surfaces can also nix stains that are caused by the build-up of food particles.
Contact Us Today!
We hope you have fun using and sharing our natural teeth-whitening secrets! While it is a great alternative, it might not always be the fastest option. If you've got an important event coming up or you just want to look your best and have a smile you're proud of, call our friendly team at Millennium Family Dental today to schedule an in-office teeth whitening consultation!